Silica Fibre Facilities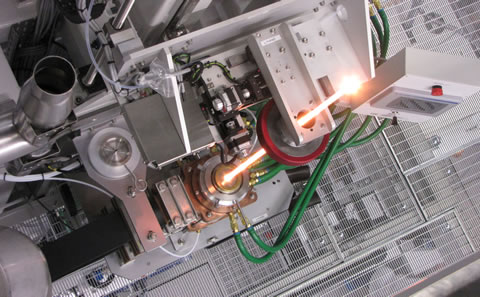 The silica fibre facility occupies over 160m2 of class 10,000 cleanroom space and comprises state-of-the-art fabrication equipment complemented by cutting-edge process advances. The facility includes a modified-chemical-vapour-deposition (MCVD) lathe, outside-vapour-deposition (OVD) equipment, a six metre high dual-sided fibre drawing tower and dedicated chemical preparation areas for glass etching and machining. The facility is capable of producing industry standard passive and active preforms and fibres, and a wide variety of specialist fibres with complex structures, enabling research into high-power fibre lasers and advanced telecommunications and sensing devices. Complete post-processing and characterisation of silica fibre includes preform and fibre index profilers, fibre proof-testing and high-resolution optical time domain reflectometry (OTDR).
Achievements
Capability to produce a wide range of fibre types including ribbon, spun, bundle and microstructure fibres, as well as fibre dimensions in the 50 – 1500 micron range.
Fibre drawing tower novel features include preform spinning and various thermal and UV-cured polymer coatings.
OVD technology, well-established in telecommunications fibre fabrication, now being explored for fabricating a wide range of rare-earth doped glasses at large volume.
Using MCVD in-situ Solution Doping and Chemical-in-crucible techniques to create next-generation rare-earth doped fibre for high power lasers. 
Facility contact
Contact us to discuss how you can access our facilities for research and development projects.
University of Southampton staff can find out how to access the facilities by visiting the Zepler Institute Sharepoint.
Equipment
Click to view the Silica Fibre equipment list
Services
We offer a range of fabrication, characterisation, design and simulation services. Click to find out about silica fibre services