Nanofabrication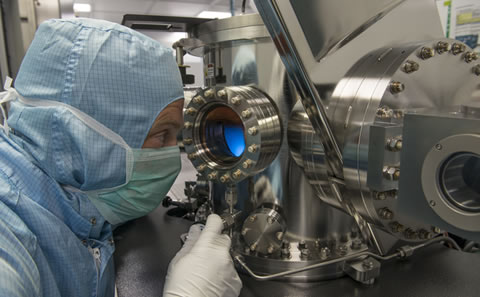 Our nanofabrication facility offers industry-compatible nanoelectronics/ nanophotonics processing, including 150mm and 200mm wafer capability. Our lithography capability combines photo- and electron beam lithography from 20nm with nano-imprint and hot embossing. Self-assembly of nanostructures is used to grow carbon nanotubes, nanowires and quantum dots. Thin film deposition is performed by ALD or PECVD. We can deposit optical layers using Plasma Assisted Reactive Magnetron Sputtering, and fabricate multi-stack devices using wafer-to-wafer aligning and bonding. We offer device fabrication for silicon electronics, photonics, MEMS, lab-on-a-chip, and spintronics. Fabrication/characterisation capability includes FIB with integrated SEM and SIMS. The range of other measurement tools available include ellipsometry, XPS, Raman spectroscopy, cryogenic prober, RF measurements up to 60GHz, Field-Emission Scanning Electron Microscopy (FESEM), AFMs and a Helium Ion Microscope.
Achievements
A uniquely broad range of technologies, combining traditional and novel top down fabrication with state-of-the-art bottom up fabrication, and extensive characterisation capabilities, including:
Facility contact 
Contact us to discuss how you can access our facilities for research and development projects. 
University of Southampton staff can find out how to access the facilities by visiting the Zepler Institute Sharepoint.
Equipment
Click to view the Nanofabrication equipment list 
Services
Our experts can offer a wide range of fabrication and characterisation services to support your specific requirements. Find out more at: Nanofabrication services