Oliver Graydon PhD in Next-generation Erbium-doped Fibre Devices
Chief Editor, Nature Photonics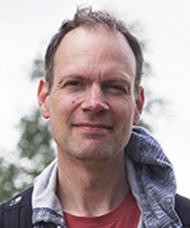 The ethos and culture at Southampton of research excellence was useful for focusing my mind on high standards, which became important when starting Nature Photonics and striving to publish the best research in the world.
What were your highlights of studying at the Optoelectronics Research Centre?
Being surrounded by world-class research of such a diverse nature meant that it was an exciting place to be studying. There was often a constant buzz of excitement as new results came out of the lab. it was always interesting hearing about the latest fascinating projects and ideas kicking around and to meet new visiting researchers and students from all over the world.
Like many students it was also a great feeling when an experiment actually worked and your long-awaited data indicated that something you had designed worked as you expected it to. Of course, this didn't always happen which made it even more rewarding when it did. Ultimately, the key highlight for me was meeting such talented and interesting people.
What research topic did you focus on during your PhD at Southampton?
I joined the ORC to undertake a PhD in next-generation erbium-doped fibre devices in autumn of 1992. This was just a few years after the erbium doped fibre amplifier had first been reported in Southampton so the plan was to see what other types of erbium fibre devices could be made. I was formally under the supervision of David Payne, the ORC's director, but on a day-to-day basis worked closely with Richard Laming on the experimental side and Michalis Zervas for the theory. Richard was a brilliant experimentalist who left the ORC in 1998 during the telecoms boom to move to Scotland and setup a company called Kymata. Michalis is still at Southampton.
During my time at the ORC I mostly worked on twin-core doped optical fibres, using them to construct a variety of devices including gain-equalizing optical amplifiers that provide a steady output signal for a wide range of input powers; multi-wavelength fibre lasers and adaptive optical fibre filters that automatically tune their central passband wavelength to the signal wavelength even if it moves around. Interest in multi-core fibres faded away after my PhD only to experience a renaissance 20 years later when spatial-division multiplexing became a hot topic for expanding the capacity of optical fibre communications.
How did your education at Southampton prepare you for your future career?
I think that the ethos and culture at Southampton of research excellence was useful for focusing my mind on high standards, which became important when starting Nature Photonics and striving to publish the best research in the world. Learning how to effectively communicate, analyse and interpret research was also a useful skill and is now a core part of my job.
The network of scientists I met during my time at Southampton has proved useful for helping keep track of photonics research as it has evolved. I enjoy bumping into familiar faces at conferences (such as ECOC, CLEO-Europe and others) something that I have badly missed in 2020 and 2021 due to the arrival of SARS-CoV2.
How has your career developed since completing your PhD at the Optoelectronics Research Centre?
In the summer of 1996, following my PhD, I moved into the world of scientific publishing and spent almost 10 years at the Institute of Physics Publishing Ltd in Bristol working in their magazines department. I then joined the Nature Publishing Group (now Springer-Nature) as the Chief Editor to launch the journal Nature Photonics, a role that I still occupy today.
Nature Photonics was launched in January 2007 with the aim to make exciting and important research findings in optics and photonics more visible and to give them the wider exposure they deserve. The journal has recently celebrated its 14th birthday and I think has become a valued outlet for the optics community.
What tips would you give to current students at the Optoelectronics Research Centre?
Make the time to meet and talk to other people that aren't in your group in order to broaden your exposure to new ideas beyond that of just your own research topic. Photonics is naturally a highly interdisciplinary area and building up your knowledge and appreciation of different aspects of the field, will serve you well if you plan to have a career in photonics.
Try not to be scared of things not working, while it's easy to perceive this as failure and become disheartened its actually when you learn the most. It's important for science that people are not put off trying new things, as the evolution of science depends on it.
Lastly, work on your communication skills, as learning how to clearly and effectively talk and write about science can be very useful be it for grant applications, writing journal papers, conference presentations and job interviews. I often think that it's an undervalued skill and more training should be given in this area.