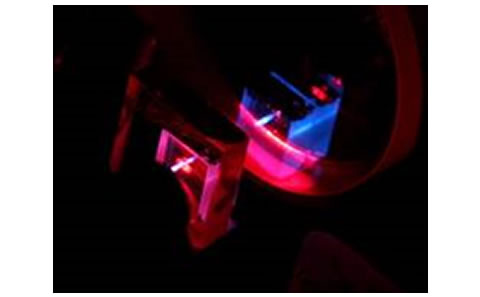 Planar Waveguide and Slab Lasers
The Planar Waveguide and Slab Lasers group is led by Dr Jacob Mackenzie.
Our group investigates novel laser sources with an emphasis on the advantages of a planar gain media geometry, capitalising on the geometric compatibility with high-power diode-laser pump sources. We look to extend the current parameter space available from solid-state laser architectures – from waveguides to cryogenically cooled gain media, through materials research and composite engineering, whilst paying particular attention to thermal management, and targeted spectroscopic characteristics. Predominantly utilising crystalline gain media, we are exploring exciting opportunities not achievable via standard routes, thus enabling difficult or weak laser transitions. While constantly emerging applications continue to be a foundation for new developments, our current emphasis is placed on increasing the range of accessible wavelengths and demonstrating power-scalable solutions in both pulsed and CW regimes.
Central research themes
Novel waveguide structures for robust spatial mode selection
Waveguide amplifiers
Pulsed planar waveguide lasers with high-peak powers
Cryogenic operation of lasers at high powers
Efficient, compact, and powerful solid-state laser systems, difficult to realise using other laser-media geometries
Ultra-fast high repetition rate compact lasers
Visible laser devices
Collaborations
Within the ORC and University of Southampton (UoS)the Planar Waveguide and Slab Lasers group collaborates closely with:
Academic partners include
Government agencies:
Rutherford Appleton Laboratory - CALTA
NASA – Goddard Space Flight Centre
Externally, the group also has support from companies such as:
Publications
For a list of selected recent publications, including invited papers, refereed conference papers and refereed journal papers, pleasesee our publications page.
Work with us
Please send enquiries to jim@orc.soton.ac.uk
PhD projects
Project title: Novel photonics via Pulsed Laser Deposition
Pulsed Laser Deposition (PLD) is an exciting route for manufacturing high optical-quality, fully crystalline composite structures. This well-known method can be used to fabricate advanced active materials for optical gain engines in laser or amplifier systems, or in addition novel composite photonic devices, such as all-crystalline Bragg reflectors. PLD is an established technique for the deposition of a range of materials, and in which we are the world leaders for growing single crystal structures for active photonic applications.
This project, is specifically aimed at developing new composite crystals as functional photonic devices. It involves growth, characterisation and end application of these PLD-grown superstructures, and would suit someone who is very hands-on experimentally. There is also a significant opportunity to do modelling associated with the functional devices, whilst all the while working alongside experienced postdoctoral fellows as part of an EPSRC manufacturing grant.