Physical Optics 
The Physical Optics Group is led by Professor Peter Kazansky. Research activities in the group are focused on adventurous and potentially high impact research in optics, quantum and physical electronics.
Current research includes fundamental studies of poled glasses with large second-order nonlinearities, the creation of new glasses, optical fibres and waveguides with nonlinearity comparable with that in the best nonlinear crystals and development of practical devices such as all-fibre frequency doublers, parametric frequency converters, electro-optic modulators, switches and electric field sensors.
Another activity involves advanced photosensitivity and femtosecond direct writing of 3D photonic structures. Photonic structures patterned in three-dimensions providing entirely new functionalities offer tantalizing possibilities in the field of integrated optics, e.g. switches and compact delay lines and micro-optics, e.g. embedded diffractive optics arrays for interconnection and synthesis of light beams.
Current interests and future directions also include integrated quantum optic devices, such as atomic clocks, atom interferometers and quantum computers. The field of laser cooling and trapping atoms for cold atom optics promises numerous important applications and we are working to advance this technology and create a cold atom laboratory on a microchip.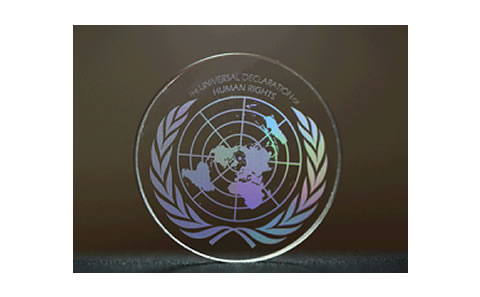 Making news
The ORC's Physical Optics Group is collaborating with Microsoft in Project Silica - a project to develop the first-ever storage technology designed and built from the ground up for the cloud.
Professor Kazansky recently participated in a conversation with artist Martijn van Boven, at the 'TodaysArt2018' Festival at The Hague, where they explored current intentions, possibilities, and questions around sending data into space. The conversation, 'Data in the fith dimension' can be found here.
Kazanksy is also part of the Arch Mission Team  - a mission to preserve and disseminate humanity's most important information acorss space and time, for the benefit of future generations.
The Telegraph has listed 5D optical data storage research as second in their top 10 list of groundbreaking university research projects - alongside gravitational wave study.
Published: 28 January 2017
We are now listed in the Guinness Book of Records!
Published: 26 September 2016
The University's pioneering 5D data memory storage technology was featured on CNN's Make Create Innovate programme this weekend.
Published: 10 October 2016
We've been nominated for the WIRED Audi Innovation Awards among the eight scientific break-throughs set to revolutionise our future. 
Published: 7 October 2016
Report: 'Eternal' mass data optical storage for an increasingly 
connected world. 
Published: 29 April 2016
Our research into '5D' optical storage has received marvellous media attention - take a look at some of the coverage of our activity. 
Search updated: 29 April 2016
Duke of York receives lasting gift  
Published: February 2012
Glass memory compared to "Superman's memory crystals" 
Published August 2011