Optical Fibre Communications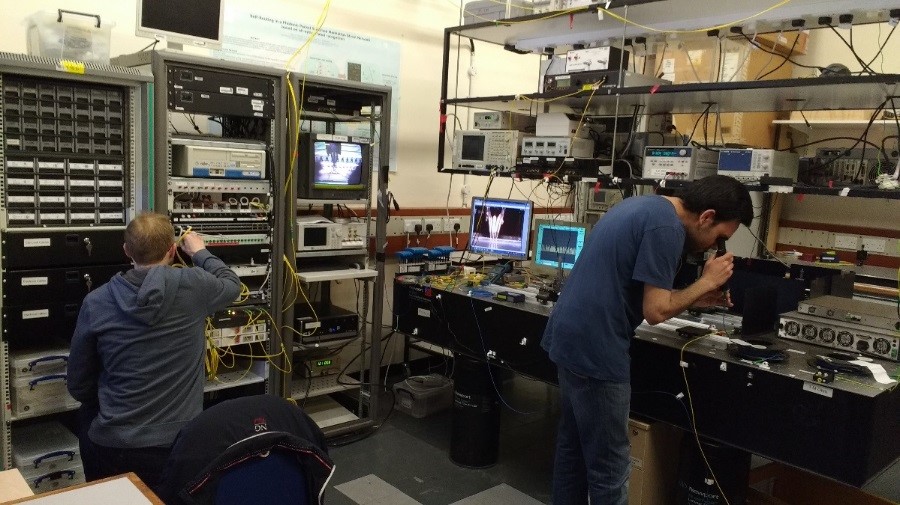 This group is part of the Advanced Fibre Technologies and Applications Group led by: Professor David Richardson.
The person responsible for the Optical Fibre Communications Group is: Professor Periklis Petropoulos.
The development of optical fibre communication systems is arguably one of the greatest engineering achievements of the past century. Developments in fibre technology have revolutionised society, allowing first low-cost, high-quality voice communications, and more recently the development of the internet. 

 The ORC has been at the forefront of optical fibre communications since the very earliest days of the field providing several critical contributions over the years. Arguably the most important of these was the discovery of the erbium doped fibre amplifier – a device that eliminated fibre loss as the fundamental limiting factor to signal transmission. Today we continue working on topics that are at the forefront of research on next-generation optical communications systems. Our main interests are in the development of novel techniques for optical signal processing and transmission and the applications of novel fibre and waveguide technologies.
The group operates in a suite of three well-appointed laboratories, including a state-of-the-art optical communications system laboratory equipped with the equipment required to undertake optical transmission and data processing experiments using state-of-the-art signals and high channel counts. The lab is part of the EPSRC National Dark Fibre Infrastructure (NDFF), an installed optical network linking set up for research purposes, linking four university sites, UCL, Bristol, Cambridge and Southampton, with onward connection to European and Worldwide research networks via telecommunications facilities in London.

Over time, the group's research has been funded by the European Union, through its Framework Programmes, and the UK's Engineering and Physical Sciences Research Council (EPSRC).
Optical Fibre Communications group members
Dr Kyle Bottrill
Dr Yang Hong
Dr Valerio Vitali
Dr Ravikiran Kakarla
Dr Colin Zhang (jointly with the Southampton Wireless Group)