Novel Bragg grating technologies advance clean energy research and biosecurity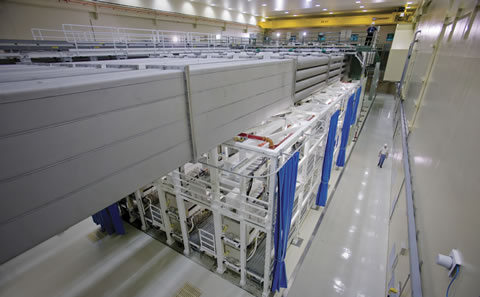 Ultra-precise Bragg grating writing-technology invented at Southampton's Optoelectronics Research Centre (ORC) is having an important impact on a wide range of areas from security and safety, to the detection of biohazards and high power laser use in clean energy generation.
Research challenge
With global energy demands rising, the quest is on to pioneer a way of producing enough clean, renewable energy to meet the world's future needs. 
While elsewhere there is a growing requirement to develop ways of using optical fibre sensors in in-situ applications and hostile environments.
Context
Cheap and renewable energy is perhaps number one on the wish list of every government around the world. All eyes are closely on fusion energy programmes, that should they prove successful, would solve one of the most fundamental problems of energy security.
Our solution
There are two key areas of research at the ORC that are contributing to the significant advances in biosecurity, management of environmental hazards and clean energy research; planar-based and fibre-based Bragg grating technologies. 
The planar-based technology is being developed for optical microchip sensors in areas such as the portable detection of biohazards and has resulted in the creation of spin-out company Stratophase. While the fibre-based technology has been directed at a wide range of areas including the quest for clean energy production.
What was the impact?
The impact of Bragg grating technology is being seen across a range of areas including the economy and the environment. 
Fibre Bragg grating technology could help solve one of the most fundamental problems facing the world today – how to provide an unlimited source of clean energy. 
The fusion research enterprise National Ignition Facility (NIF), in Livermore, California, U.S.A., has at its heart ORC-developed fibre Bragg grating technology. NIF scientists have been collaborating with Southampton in the aim of developing technologies that could eventually replace current fission-based power stations. Fusion-based energy generation could potentially provide an unlimited source of cheap and renewable clean energy. 
Planar Bragg grating technology research at the ORC led to the creation of successful spin-out company Stratophase that has increased high technology employment in the local area. 
Users of this technology include GlaxoSmithKline, Green Biologics and CPI for feedback-control during bio-pharma production. The Defence Science and Technology Laboratory and the Ministry of Defence are also using this technology to successfully demonstrate the detection of live agent biohazards such as ricin and anthrax providing the UK with a national capability for identifying these biohazards and enabling greater protection of the country's population. 
The research is also being used by a number of life sciences companies to provide off-the-shelf solutions for batch monitoring and process control.