Microstructured optical fibres for laser and biomedical applications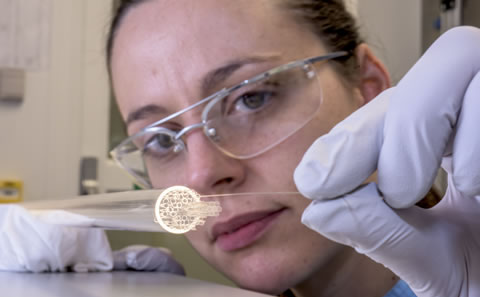 Our research into microstructured optical fibres (MOFs) has had a significant impact on the economy, creating hundreds of jobs worldwide and a multimillion dollar global market. The pioneering work has also led to the development of a range of new diagnostic and medical technologies.
Research challenge
Optical fibres have a vast and ever-increasing range of practical applications from underpinning the internet infrastructure, to the development of high-precision medical instrumentation. The technology enhances the lives of most of society and is critical to many manufacturing and leisure industries. 
There is a continuing challenge to ensure optical fibres are robust and powerful enough to run these ever-changing applications.
Context
The invention of MOFs has led to a significant change in a range of applications of fibre-optic technology. They have also created new business sectors within the global optoelectronics industry that has adopted this new form of fibre, not only to improve or extend the performance of existing product lines, but also to exploit its unique properties and develop revolutionary new products and services.
Our solution
Research at Southampton's ORC comprises an extensive body of work on the development of MOFs - also known as photonic crystal fibres (PCFs) - that transmit light via a fundamentally different mechanism to pre-existing fibres. Instead of the conventional solid core, MOFs contain a sophisticated arrangement of microscopic air holes that extend along the entire fibre length. 
More recent research has improved the design and manufacture of MOFs and demonstrated practical approaches to realising novel MOF-based laser sources.
What was the impact?
Our research into optical fibres has led to the creation of new business sectors in laser development for medical and healthcare applications that have enabled the development of new diagnostic and medical technologies, created hundreds of jobs around the world and a worldwide market worth $96m in 2011. This market is predicted to rise to $621m in 2016. 
The invention of MOFs and subsequent early research on nonlinear MOFs at the ORC has also led to the creation and continuing success of spin-out company Fianium, a global leader in the development and manufacture of ultrafast fibre lasers and laser systems. 
Fianium has an annual turnover of £10m and employs more than 50 people locally. More than 90 per cent of the company's products are exported and it has been recognised for its achievements with two Queen's awards – in 2009 for International Trade and in 2012 for Innovation. 
The use of MOFs to generate compact supercontinuum fibre lasers (SFLs) has enabled the development of new biomedical instrumentation and diagnostics. MOF technology is now beginning to be used in laboratories and hospitals across the world to enhance understanding of biological systems and to aid diagnosis and treatment of medical conditions for improving the health and well-being of the general public. 
SFLs are also having a profound impact on the field of metrology allowing far more accurate measurements of frequency, time and length and the distribution of accurate time through an optical fibre network and time stamping services for financial transactions. This is an important contributor to global international trade and the world's stock markets.