High power fibre lasers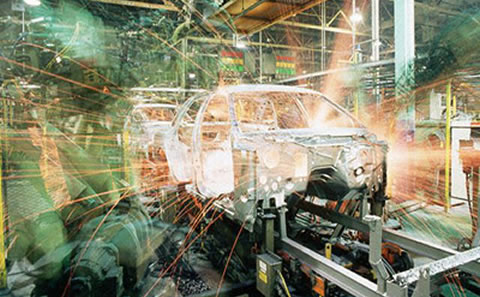 High power fibre lasers were 'born' out of research at Southampton's ORC and have led to the development of highly efficient and highly practical fibre laser technology. Today these fibre lasers are widely used in telecommunications, manufacturing, medicine and science.  
Research challenge
Fibre lasers are far more energy-efficient than other lasers and their strength lies in their stability, beam quality and their ability to achieve very high levels of power. With today's technology advancing at an ever-increasing rate, the challenge is to develop lasers that remain powerful and robust enough to cope with the demands of the latest applications.
Context
Around the globe more and more of our everyday life relies on the use of high power fibre lasers. From using the Internet, to laser-based cutting and welding, from helping manufacturers mark their products to producing life-saving medical devices fibre laser technology needs to keep pace with society's growing requirements.
Our solution
High power fibre lasers, based on rare-earth ion doped silica fibres were effectively created at Southampton, which has a long and prestigious history in this field of research. The team's work has comprised an extensive development of optical fibres and laser concepts that have allowed scaling in the average output powers from practical fibre lasers. They have also explored the extended range of operating modes from short-pulse to high power single-frequency operation. 
In the 1990s the researchers explored the testing and identification of the critical rare earth ion dopants (ytterbium, erbium and thulium) and the core glass compositions required to generate and reliably sustain ultrahigh levels at near infrared wavelengths. 
They examined the limits to pulsed energy extraction and developed large mode area core designs capable of handling high power and high pulse energies. This key research provided access to the multi-kilowatt class, high brightness laser regime and was critical in the successful development of spin-out company SPI Lasers UK Ltd.
What was the impact?
Southampton's high power fibre laser research has revolutionised areas of industrial material processing and enabled the development of specialist components for high-end industries such as aviation and defence. It has also been significant in the creation of an array of new medical devices, procedures and manufacturing technologies. 
The research directly led to the creation of spin-out company SPI Lasers UK Ltd that was valued at £40m when it was floated on the Alternative Investment Market in 2005. The company was acquired by German machine tool and disc laser specialist TRUMPF GmbH in 2008 for £27.8m. SPI now has an annual turnover in excess of £40m, employs more than 250 people in the Southampton area, and exports more than 95 per cent of its products into Europe, the USA, and Asia. 
Other beneficiaries include car manufacturers whose production now relies on laser-based cutting and welding processing to produce stronger, safer vehicles; aerospace companies such as BAE Systems who use laser machining, welding and polishing to produce planes of reduced weight and aerodynamic drag; food and consumer goods manufacturers who mark their products with fibre lasers; and medical component manufacturers who exploit the excellent beam quality and high powers to produce high precision life-saving devices such as stent implants used in heart surgery.