Postgraduate PhD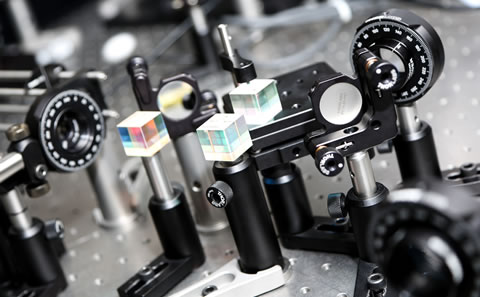 Photonics has changed the world in many extraordinary ways, from powering the internet, navigating airliners, correcting vision and protecting the environment. 
Our world-leading research centre is a hive of activity with over 200 staff and students working on cutting-edge research to provide innovative solutions for real life problems in manufacturing, communication technology, defence, health care, renewable energy and the environment 
We are looking for the photonics pioneers of the future to join our vibrant research team and work alongside our world-class researchers to create some history. Our physics and materials science PhD programme offers a solid start to any career in optics and photonics, whether you are planning to stay in academia or work in industry. 
PhD degree in Photonics
Working alongside some of the world's leading photonics, physics and advanced materials scientists, you will spend your time conducting novel research in our state-of-the-art facilities, keeping up to date with current research trends in photonics, physics, optics and advanced materials, writing journal papers and attending conferences.
Our students gain a solid grounding for their future careers in photonics, the key enabling technology for a host of industry sectors including: 
oil and gas
imaging
automotive
ICT
medicine and healthcare
metrology
defence and secruity
aerospace
energy
manufacturing
telecommunications
Our extensive training programme provides knowledge and skills through photonics lectures, skills training for report writing and presentation skills and full safety training for your research area. 
In addition we also offer plenty of opportunities for networking with fellow researchers and potential employers through attendance at national and international conferences throughout the PhD as well as internal industry and academic events. 
Structure of the PhD
Progression is based on annual reports and oral examination. The final PhD award is based on the PhD thesis and viva examination.  
Duration of PhD studies:  Full time: 2 - 4 years  /  Part time: 3 - 7 years
Support
Our success as a research centre is closely linked to the success of our PhD programme. Consequently we take the welfare of our students very seriously and are willing to put aside time for every student. Your supervisor will meet you on a regular basis to see how your research is going and our dedicated student mentor will help to ensure that you are settling in.
PhD research projects
We have over 30 research groups working on a wide variety of physical science, optics and advanced materials research projects. Our supervisors are always on the lookout for new students to join their teams. A full list of the PhD projects available with our research groups can be found in the PhD project section of the website.